A few weeks ago I had the honor to share some ideas and experiences with some fellow entrepreneurs at SaaSTtr Europa in Barcelona. My talk was about how you can try to crack a successful sales channel for your scale up. I strongly believe in the strength of distribution channels for scale ups as a differential factor, and I have seen how those agreements have become a critical path to success for some companies, while they could also destroy you.
During the event, I finally had the chance to meet the great Jason Lemkin in person and I acted like an excited groupie, asking for a selfie and telling him how much he had inspired and taught me over the years.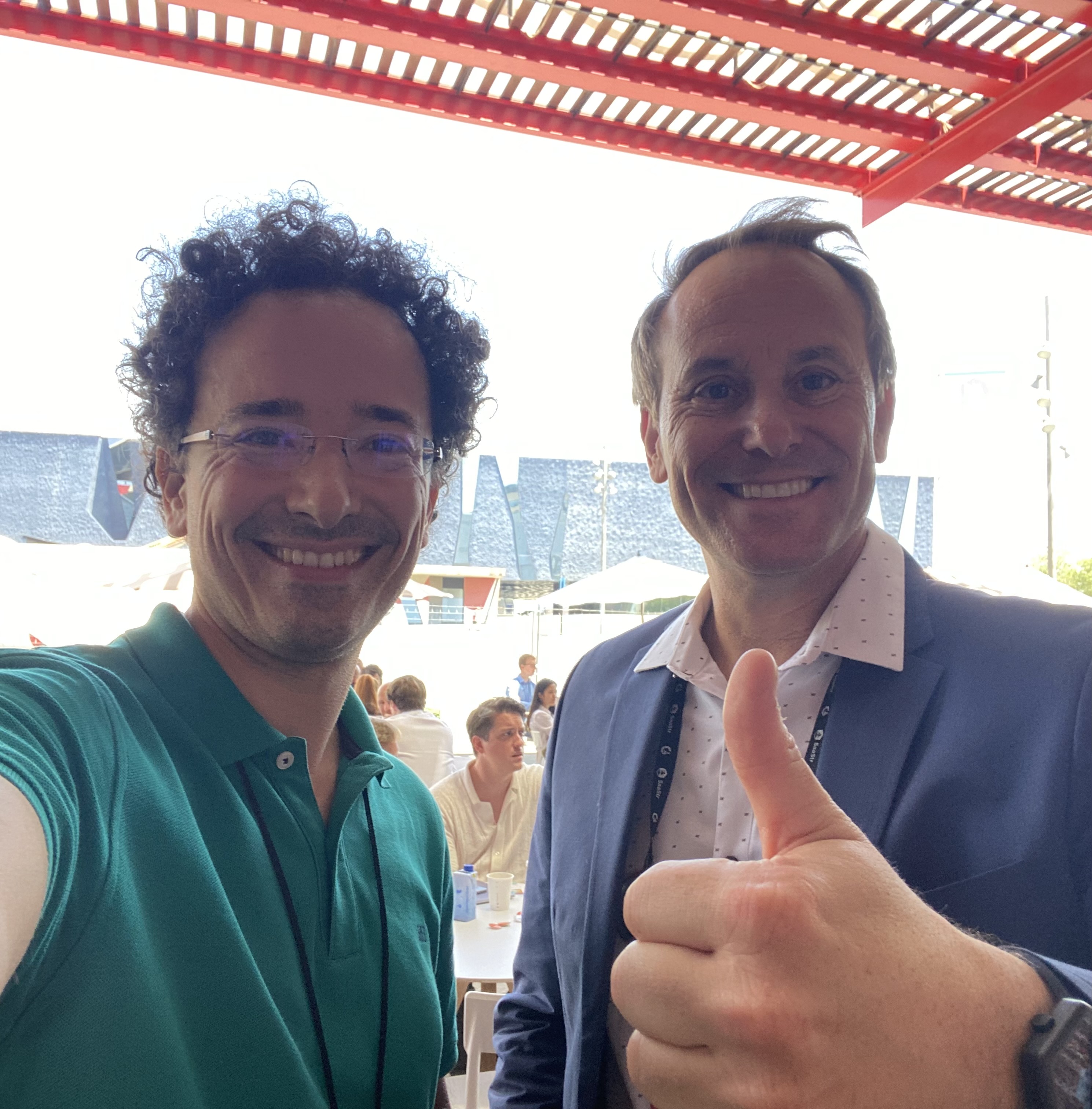 And I am not a bit ashamed about it.
So, these are my tips to try to make corporate sales channels work:
Where do you orbit? Insertion points. 
This is the most important learning I made as an entrepreneur and later, managing Telefónica's entrepreneurial interfaces globally.  It relates with humbly understanding that things are not circling around you as an entrepreneur. In fact, there are so many and much more heavier planets in any given corporate tech stack, and you need to understand how do you orbit around them.
You should, of course, clearly define your Value Proposition first, and your product offering should have a strong differentiator against your competitors. But even with a very clear and edgy winning feature over your competitors, a key point to succeed is getting right how you orbit with the existing tools that are in place in the corporate stack. As an example, if corporate middle manager got a 1 million $ contract approved and added in his/her budget last year to implement SAP, he will not ditch it just because you came in through the door. No matter how great your product is.
Instead, think if you can make SAP actually work better for them. If you do so, they will love you.
So, take the time to define and explain to your potential channel partners how easy your integration with existing systems are, how the data flows and how it makes what they have, and as extension, themselves, look better.
Reduce friction. Interfaces matter. 
Simplicity always scales, and you want to avoid cumbersome integration processes. Plan how your product can be sold and deployed as a bundle with existing products they are already selling, and take the heavy lifting of building connectors or API accesses.
Believe it or not, 80% of budgets go to end-of-life products, that is, products that do not receive continuing support, either because they are built in house and are legacy systems or because they are at the end of their useful life
That leaves a meager 20% of budget available for sexy new things, which will mostly be built with their own internal teams and code, hence creating additional legacy code, no one will be able to maintain or improve in the future.
The space you are fighting for, opening new budget for new software within the corporation, is actually pretty small and there is little room for failure. Don´t think corporates have their pockets full with «your» money, the disposable budget they might have for you is rather tiny.
Calculate the cost of inaction
Forget about ROI, you must focus your prospect's attention in the risk of doing nothing. What impact would it have on the person you are talking to? You want to make sure they understand they need to do something now and that their change needs to go to you.
To achieve this, you need to calculate and showcase the costs of inaction, so that your contact in the organization can acknowledge the consequences of sticking with their existing stack and creating a strong motivation to change.
Embed your story into their story
Epic storytelling always wins, and you need to give your new corporate channel a reason to play. Why are they allowed to resell your product and why shouldn't the prospects just go directly to you?. For example, if your partner is using your product in their own corporation, that gives them a strong angle to sell to others. Or if your product is part of their products' suite, bundled with their own products, that helps a lot too.
Feed the beast to increase its appetite
You need to get the ball rolling, and that might imply to give them their first customers, even if those are deals that you would have closed on your own and show the reps they can make big money with your product.
Train their best talent, as if it were your own
Think hard about how you can give their sales reps superpowers through magical spells such as competition battlecards, value prop documents, case studies, value calculators…
And create joint materials like Webinars, Blogposts or custom Landing pages. All needs to be coherent and highlighting back to the Value Prop, the differentiators, the tangible outcome and how do you orbit with the rest of the partner's offering.
Those first reps over quota are your best marketing tool to convince other corporate salespersons to put in the effort to learn and sell your product. So help them out, write their first proposals and remember that it is not just ALL about money. Incentives can be crafted around intrinsic factors and highlighting that great internal champion as the innovative sales person of the year in the next SKO can be really powerful.
The power of intros
I am certain that you know somebody who knows somebody. Use your board and your investors and give them homework every board meeting, but also give them tools to help you without a huge effort.
You can also use your customers to help you with additional intros for your channel. If you go the extra mile for your customers, they will become your champions and do the same for you when you need a little push.
Find your Champion. And nurture him/her
If you're a startup working with a large enterprise, and it feels like a project is going nowhere, you're probably right. Having a clearly defined internal champion helps you understand what is going on. Why has the reprioritization, re-budgeting or cuts happened and what are the new strategic trends that will open budgets for you. All those are outside forces you have no control over and the internal champion can provide incredibly useful intel.
Talk to CEOs
Politics are a huge force inside some organizations and I am not looking at this from a negative perspective. It just defines certain contour conditions and drivers around the relationship that you can use to your benefit.
Hierarchy matters, a lot, don't downplay the organisms inside of companies that are there to protect and maintain the status quo.
My top takeaways
If you want to succeed working with corporates, remember:
1.Find your orbit and how you gravitate around existing systems/powers
2.Make sure it matters for someone: Either he/she gets promoted or fired
3.It is all about people and finding the right pace and cadence
The video game just gets harder and harder
Unfortunately, once you get it figured out, the battle gets harder, with tougher villains on the other side. I remember I used to share my challenges while scaling up CARTO with Luis Sanz, who was the COO of Olapic at the time. We met every 3-4 months in NYC and when I told him how hard it was to manage a team of 40-50 and grow the company at $1 Mill ARR, he would tell me that it was much worse at their size, with 100-120 employees. And when we reached 100 employees and close to 10 mill ARR I said to Luis, «now I get you, you were right it is much more difficult», and he told me, that was nothing, «it is really hard now with 300 employees» ;).
Be patient
Don´t try to get it all done in a quarter, nurturing a sales channel and getting it to perform at scale takes time and effort, be patient and perserve!!.
Good luck!